Burma (or Myanmar, as it's now known) is a magical place. There is no other way to describe it. Entry to the country by land is intentionally made difficult for tourists, so along with a plane load of people we arrived at Yangon airport on 25th November, with absolutely no idea what to expect from the next 3 weeks bouncing around the country. What happened in those 3 weeks made us feel like we were on another planet entirely.
Even the taxi ride from Yangon airport to the city was an experience. I think if it was possible for us to get them any more, we'd have had a massive culture shock at this point. As it stands though, I'm pretty sure that'll never happen again. But anyway, I didn't take any photos, and am finding it really hard to explain, but the ox and carts, men wearing longyi's (traditional clothing, looks like a long skirt), women and children wearing tanaka paste (traditional make up) on their faces and people hanging out of buses was just a lot to take in. I think that's when I fell in love with the place, right there and then.
The internet is not much use at all for finding out anything about Myanmar. What little you can find is all between 2-4 years out of date, and no longer relevant. There's nothing older and there's nothing more recent. Not that the internet was all that accessible anyway. But it meant we didn't know much about the festival happening in Yangon while we were there. I think we were told it happened once a year, and is when the people make new robes for the monks. I say I think that's what we were told because the accent when Burmese speak english is very strong, and took us a few days to get our head around. It was a really nice surprise, this festival, as when we arrived at the hostel we went inside for a couple of hours sleep, and when we went back down there was a huge party going on in the streets that hadn't been there a few hours before. So off we went to eat some noodles, served by a lady using her hands to grab a rough plateful from the bigger bowl, and watch the fairground rides being powered by bodyweight, including a big wheel. It was insane. Watching people get on these rusty rides, knowing they would only move when men climbed up and around the edge. Insane.
One of the best things we did in Yangon was take a three hour train ride around the suburbs, on the "circle line". The train was old, very old, and it had no toilet onboard so it meant not drinking for 3 hours in high temperatures, but it was definitely a highlight for me. We saw such a different side to Yangon than we otherwise would have, not all of it nice, but all of it fascinating. The other people getting on and off the train, buying and selling food at platforms, looked genuinely bemused to see a tourist on their commute. We saw children playing on top of a rubbish dump, and later a whole village that looked built on a rubbish dump. We passed colourful food markets, so busy I have no idea how you'd get off the train at this station without stepping on a haul of fruit or vegetables. We saw two women chatting excitedly, non-stop, for about an hour until they had to get off. One of the women put a headscarf on before she disembarked, and seemed to deflate a bit when she did, and got back to whatever she was doing before she bumped into this other lady. The baby on her lap had black eyeliner on, and no nappy. There was a puddle on the bench when they stood up. Nobody batted an eyelid. A little while before we had to get off, a female monk boarded the train and took a seat on the wooden bench next to me. She offered me some kind of nut, which I declined with a smile, and then started talking Burmese and slapping my legs. We eventually figured out she was trying to tell me that she liked my trousers, but it was not easy! But I guess now I can tick that off the bucket list - to get slapped about by a monk! It was a fascinating train ride.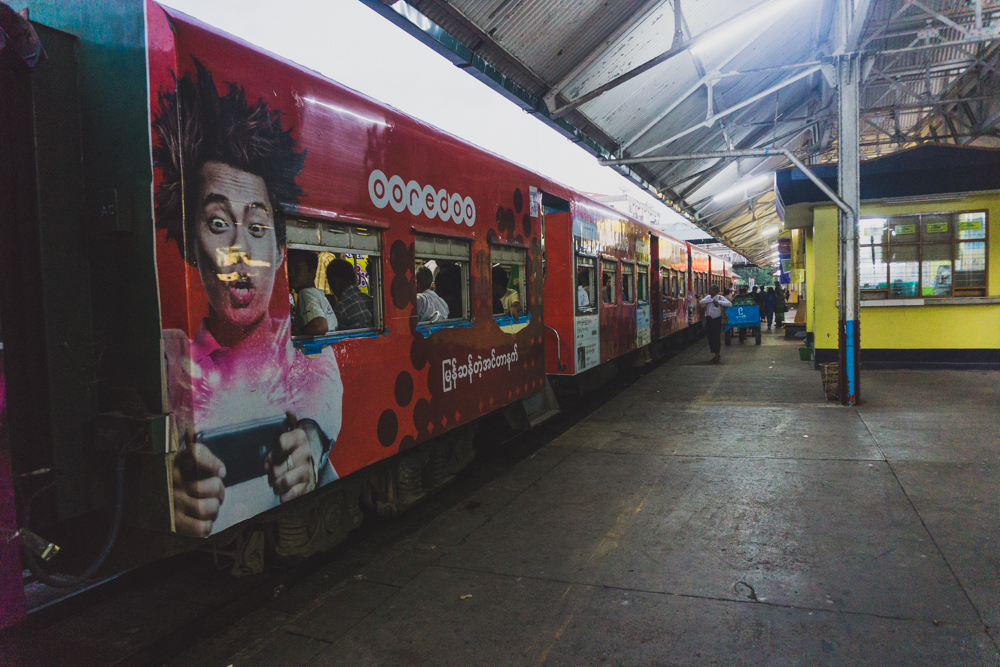 After passing through Naypyidaw, the most recent capital city (apparently it's very common for new Rulers to move the capital when they come into power), just to see the 12-14 lane wide roads, we headed to Nyuang Shwe at Inle Lake. Inle Lake is beautiful, but probably the most touristy area in the country. Not that this means much by world standards, it just meant that we saw maybe 30-40 other tourists while we were there, which for Myanmar is an awful lot in one place. We took an amazing tour around the lake, ate some beautiful food, saw a traditional puppet show and said our goodbyes. 
The train ride we took from Inle Lake to Kalaw was almost as good as the circle line in Yangon, except it was much colder. We boarded early morning, and climbed to an altitude of 1,320m. Kalaw is a small, picturesque hill station town, and the views on the way there were stunning. We could see very clearly as there was no glass in the train's windows. It was very cold. The locals all had big coats and woolly hats on. But the £1 ticket price did at least include a toilet this time. It was so gross I took a photo, coz I couldn't not! (Annoyingly the photo doesn't look gross at all, but trust us, it was! - Rich)
Next stop was Mandalay, where we looked around for a few days and booked a slow boat ticket down the river to Bagan. We woke up at 3:45am to get on this boat, bringing a massive furry blanket that we'd bought for about £2.50, and I'm so glad we did! It was very cold at that time in the morning, and I was subconsciously patting myself on the back for doing my research, while lots of other westerners shivered. The morning haze made for a very scenic few hours, before the sun rose high enough to burn it away. Watching the sun rise from under a blanket, on a slow boat moving down the Irrawaddy River is, it turns out, a very good way to start your day off right! 
The boat we were on was about half filled with people, and half filled with goods. The people were about 80% Burmese, 20% foreigners, and the goods were a mixture of building materials, furniture, a motorbike or two, food and other unidentifiable packages. We stopped at about six places en route down the river to unload, and at one stop virtually a whole house (of materials) was walked down two narrow planks off the boat, and loaded into ox carts. The men carrying all these goods were taking them up a steep, slippery ledge, wearing no shoes, and wearing longyi's (long skirts). It didn't look easy. Every stop seemed to bring a lot of people waving from the nearby villages, I guess because the boat only goes past twice a week during peak season, and their villages are in the middle of nowhere, except for the nearby river. 
There were a few people who boarded the boat to sell things at various points, and I got chatting to one Burmese lady called Maneke who wanted to sell me a massage. She was admiring the blanket we'd brought with us, so I told her she was welcome to have it when we left the boat. She was very grateful for that, as it turns out she sleeps on the boat a lot. This lady had been collecting foreign money, that I assume people had been paying her with, so we swapped some sterling coins for local currency for her. She gave me a free massage and a bunch of bananas in return, and then sat down and nattered with me for a good long time. This lady, and countless like her, struggles every day just to earn enough money to eat, let alone to help feed her family. Naturally I gave her some leftover food that we'd brought with us, and she gave me some seed and nut bars from her stall. I was really trying to help this lady, but she was too kind, so when I gave her the blanket just before we left, I also paid her for the massage she'd given me. Then I ran away, before she could argue!
Myanmar has been such an eye opener. What to, I can't quite put into words, but I'll get back to you when the feeling's really settled in. I feel so, so privileged to have been there and met some amazing people. We've seen landscapes blotted with temples and pagodas as far as the eye can see in Bagan, found out how many people struggle and still been welcomed with open arms, and learnt how life hasn't really changed here in many, many years. I love Myanmar, with all my heart!