Before we get into this, it's worth knowing the following: Myanmar has two names. Well, it has one name, but the British government don't recognise it under the name Myanmar, which most of the rest of the world knows it as, so they still call it Burma, which explains why most people at home have never heard of Myanmar. Myanmar's biggest city, and former Capital, Yangon is apparently also known as Rangoon. I honestly don't know why that is, and when I asked our taxi driver about why it's sometimes called Rangoon, he seemed like he'd never even heard the name (I've since Googled it to find out for myself, but didn't find an answer straight away, and it's nicer to try to find these things out from local people if you can anyway - I will get to the bottom of it!). For the sake of avoiding any issues, I'll stick with Yangon and Myanmar from now on.
Our first night in Myanmar turned out to be a really interesting one, and an opportunity for some cool photos. We're staying in Yangon to start with, and we didn't realise until we went out to get dinner and saw what was going on, but we're here right in the middle of the Tazaugdine light festival, which goes on for the next few days. The streets were closed to vehicles, and jammed full of people, market stalls, street food and fairground rides. Here are the photos...
Rides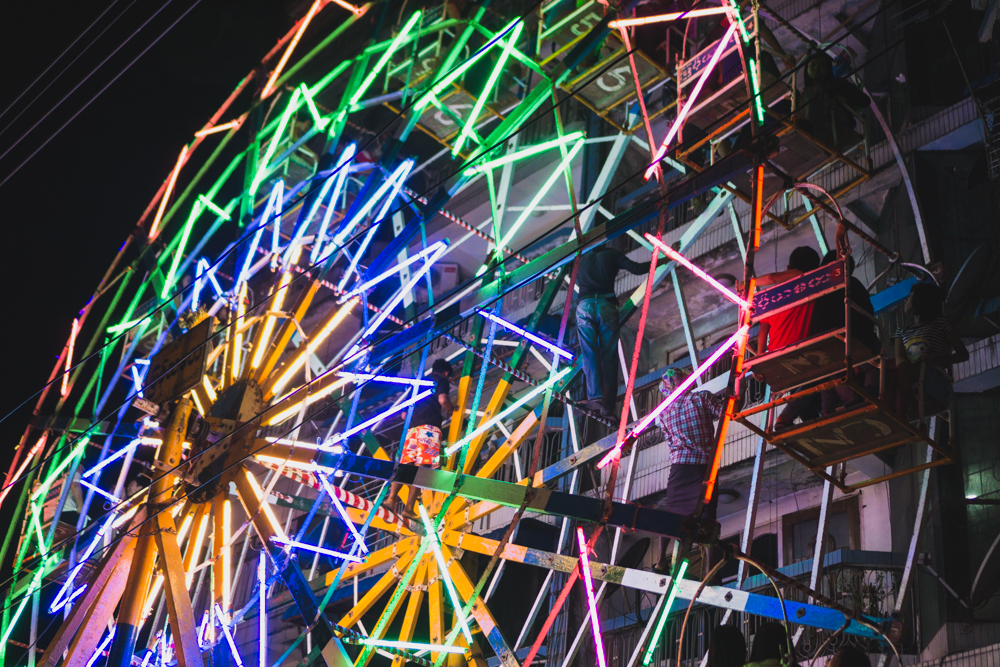 The ferris wheels were one of the scariest things I've ever seen. Probably not that scary to ride (although they all looked pretty old), but the people operating them were climbing all over them. When they were letting people on and off, they didn't use the motor, instead, a load of them climb up and move away from the centre to make it move, and toward the centre to make it stop! Sometimes they were standing on parts of it, but as it started turning, they had to be really quick and move around, so they'd hang off it with their hands at times too. Once all the carriages were full with the next lot of people, the ride would start, and the operators would have to jump off. Why they couldn't jump off before it started, I don't know, but I suspect they were doing it for the thrill.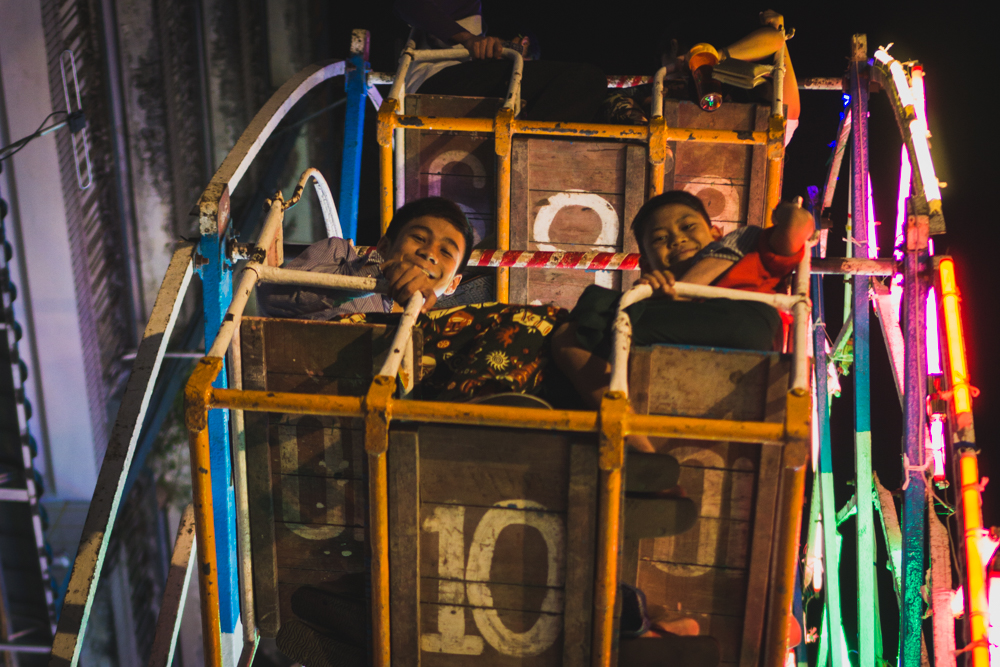 I got under the ferris wheel to take a photo, and spotted these kids looking back at me, so I waved and they waved back just before I took the shot. Very friendly kids, and it was lovely to see them enjoying the ride so much.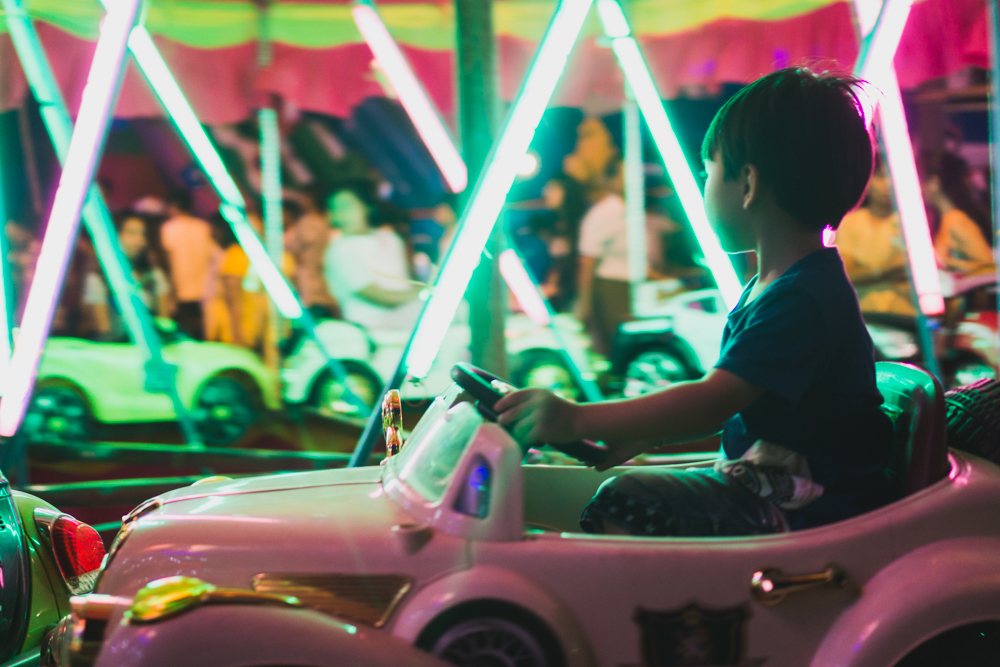 They also had smaller rides for the smaller kids, which looked a lot safer.
Street food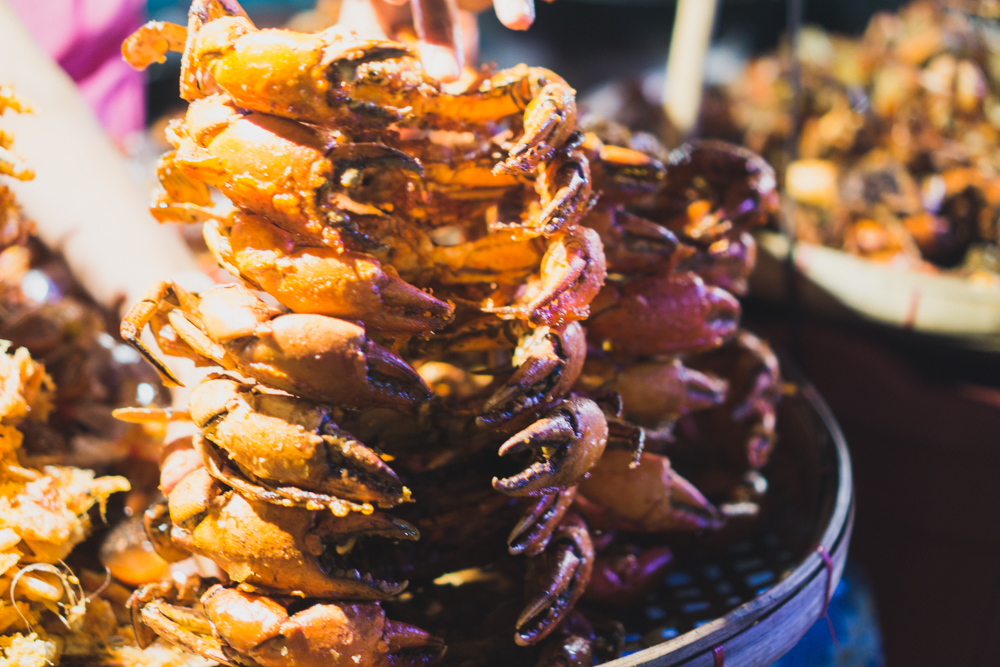 Crabs. While I do like crab, I find getting a whole one to be way too much hassle and mess for the small amount of meat inside.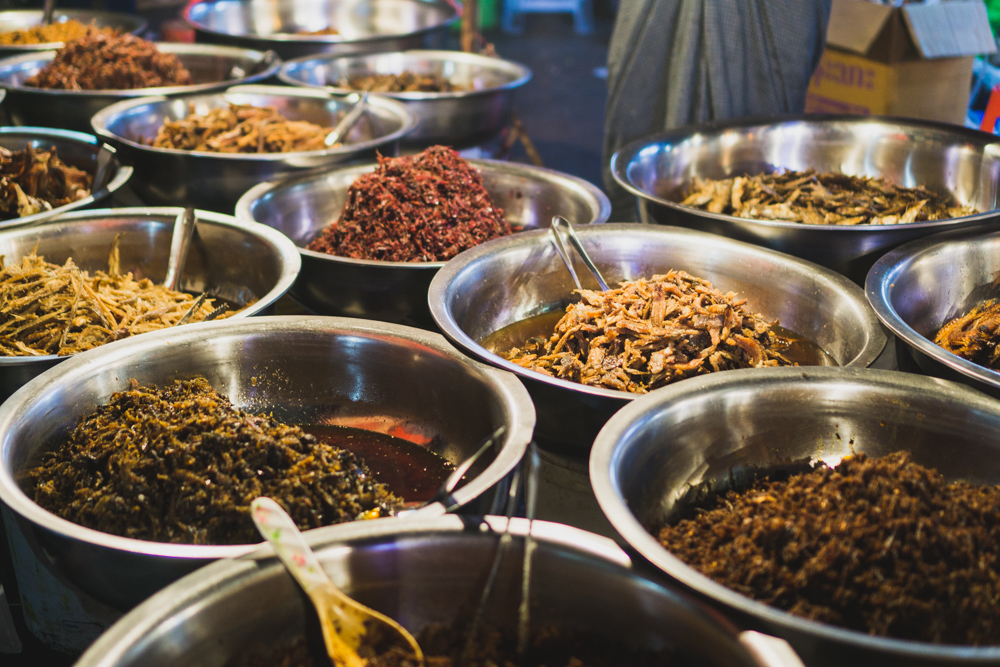 Massive bowls of food ready to be dished up. I couldn't tell you what most of this was! While these bowls have tongs and spoons, the place we eventually ate at didn't. When we asked for plates of fried noodles, the lady picked the noodles up with her hands and plonked them on plates for us. At home I think I'd have walked away at that point, but this is Asia, and although it's the first time I've seen food handled this way here, it was a much smaller step from the norm than it would have been at home! The noodles were lovely, as you'd expect.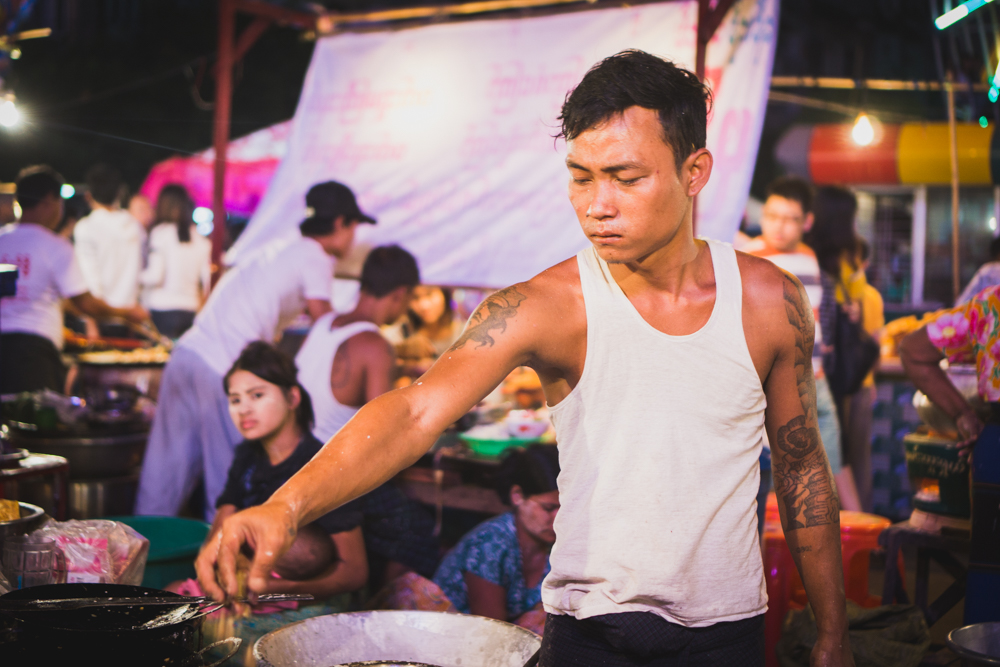 This man was cooking pancakes. He had 5 frying pans on the go, and had a very flamboyant style of cooking, splashing oil onto the pans with a ladel, and spreading the batter around by swinging the pans above his had, then flicking them back. It was very impressive to watch, but sadly all of his pancakes had nuts in them, and he didn't speak English to ask for them without nuts (it was also extremely noisy, making communication even more difficult), so we went without.
Kids with painted faces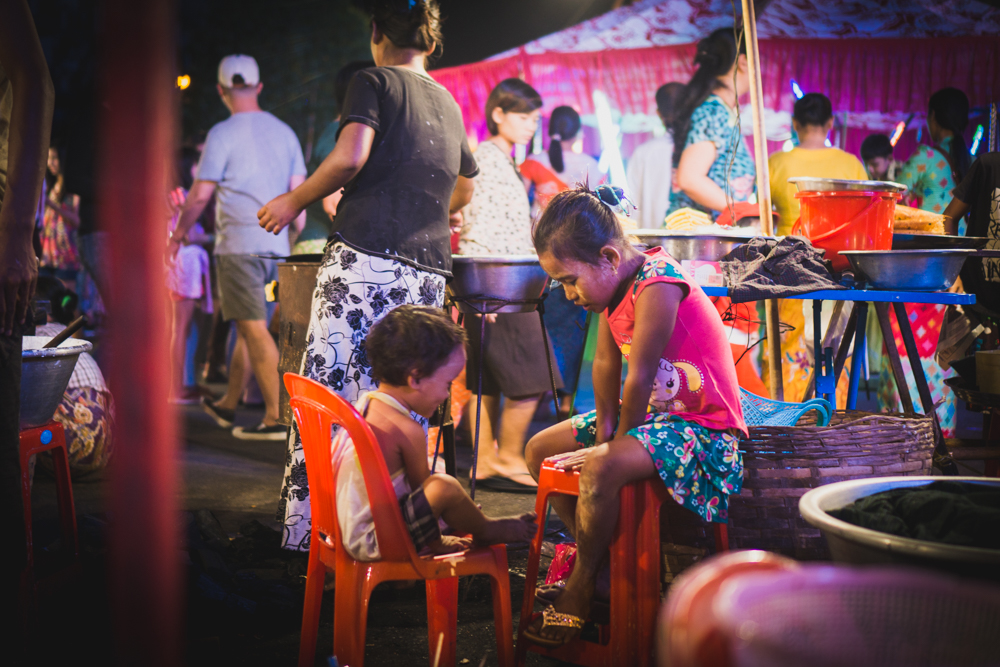 Loads of the kids had this thin face paint on, either in a pattern, or just smeared all over their faces.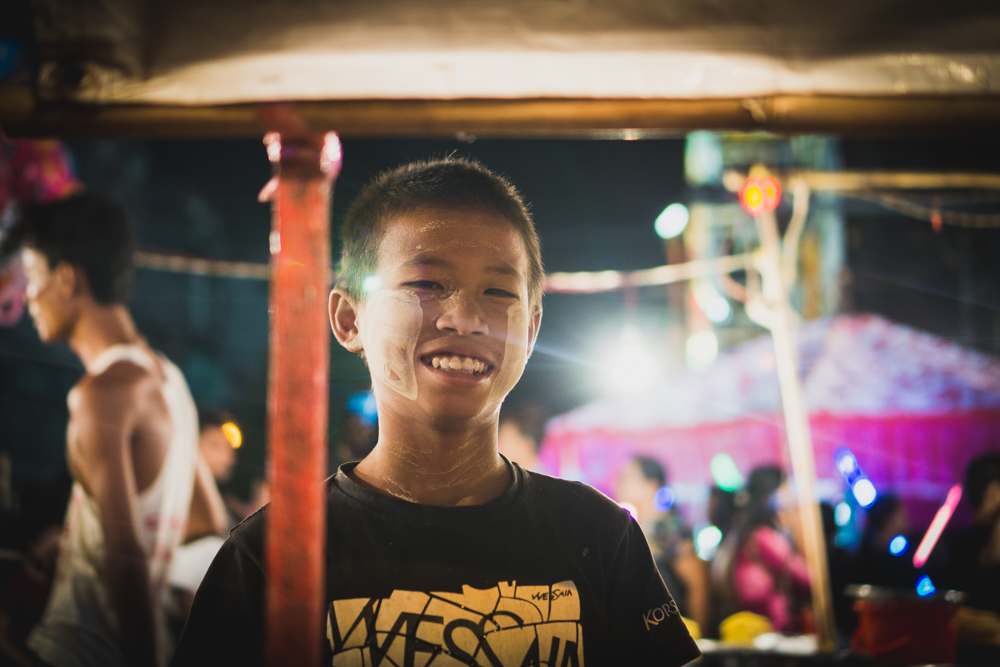 It was a fantastic surprise to find ourselves in the middle of this festival, and now we can't wait to see what the rest of Myanmar has to offer.