For those of you who don't already know, Rich's mum Dee came out to meet us in Cambodia during her half term break from work. This week was so busy, and poor Dee must've gone home exhausted after her holiday! But we all loved it, and a quick tour around Cambodia with Dee beats taking it slowly any day. Here's a quick summary of what we got up to this week:
Day 1
Rich and I arrived in Siem Reap a few days ago, and the city seems as though it's presented for tourists. It's fine, but it's not real Cambodia, and I wasn't very taken with Siem Reap. We had a bit of trouble arranging a lift to the airport, as although the hotel we were staying at offer free airport transfers, it turns out they normally just pay any tuktuk driver to go to the airport and bring back the customer - they don't send a driver from the hotel. But we got there! Just in time to see our first rain since arriving 4 days earlier. Dee brought the weather with her. We were in a bit of a rush, so as soon as we found her we jumped back in the tuktuk to go to the hotel, checked Dee in, and we were off out to Angkor Wat. Rich and I visited about 6 of the temples here a couple of days before Dee arrived, so we already knew which were our favourites and went straight there. We went to Angkor Wat and Ta Prohm. That evening we went to the night market for some dinner.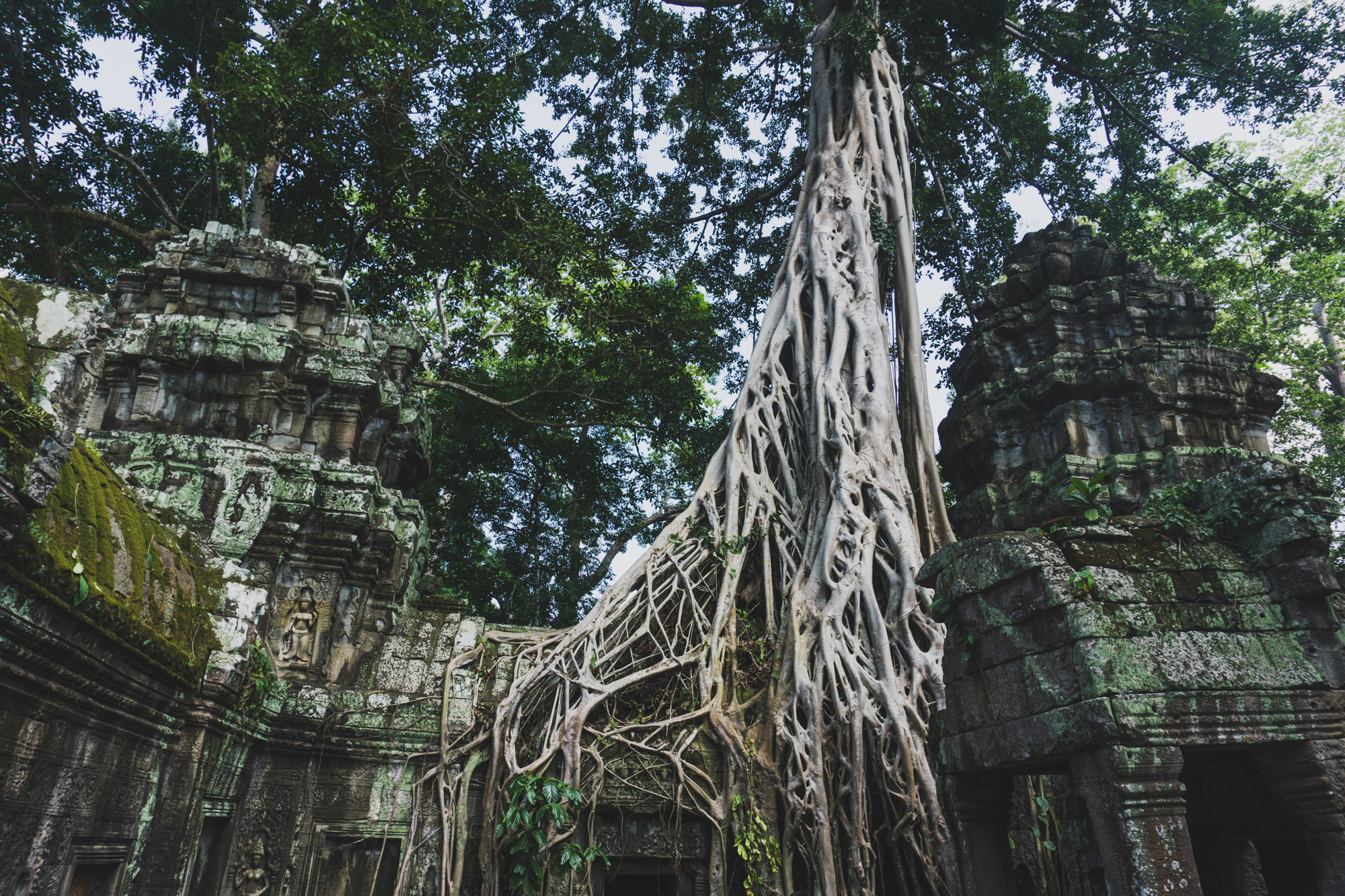 Day 2
We got up early to catch a bus, and travelled to Battambang. No sooner had we climbed out the bus we were in a tuktuk on the way to the hotel, and arranging a short tour for that afternoon. We rode a bamboo train, that was at one point the main method of transport but now only runs for tourists. At the end of the track, after stopping once or twice so that trains coming the other way could be disassembled, carried to the other side of us and reassembled on the track, we were all inadvertently made to pinkie promise to buy a bracelet from a particular child, even if we didn't want to buy one. I accidentally upset both the little girls that grabbed my fingers, as Rich bought me a bracelet from the little girl that grabbed him, and then my new little friends saw me wearing a new bracelet that I hadn't bought from either of them. Politics! But anyway, we rode back clickety-clacking down the old line, with the cooling breeze whipping dust into our eyes, and made our way to Sampeou Mountain. We came here to watch the bats, as we'd read that every day there was a huge stream of bats that leave the caves, and that it looked spectacular. And it did. We arrived here a bit early, so had time for a bowl of $2 noodle soup, then the show began. The first few bats seem to be sent out to find the best route, but after a few minutes the stream flows thick and fast.  It's like seeing a moving snake in the sky. They appear at roughly the same time every day (17:50 for us, but it had apparently been 18:10 the day before), and take one of two routes away from the cave depending on wind direction. Then they fly around the mountain until around 4am, when its time for bed. Apparently, when they're out, people sometimes climb into the caves to retrieve the bat poo and use as fertiliser. The stream of bats was so thick it could be seen from quite some distance away on the way back. It was like something from a Disney movie. That evening we wondered into town again, and found a huge party happening, but I'm not sure what it was for. I had a snack on some insects (large black crickets maybe?) that tasted surprisingly good, mostly just meaty but that was probably the flavouring they'd been coated in. Back to our VIP (upgrade!) room to figure out how to use the shower, and off to bed.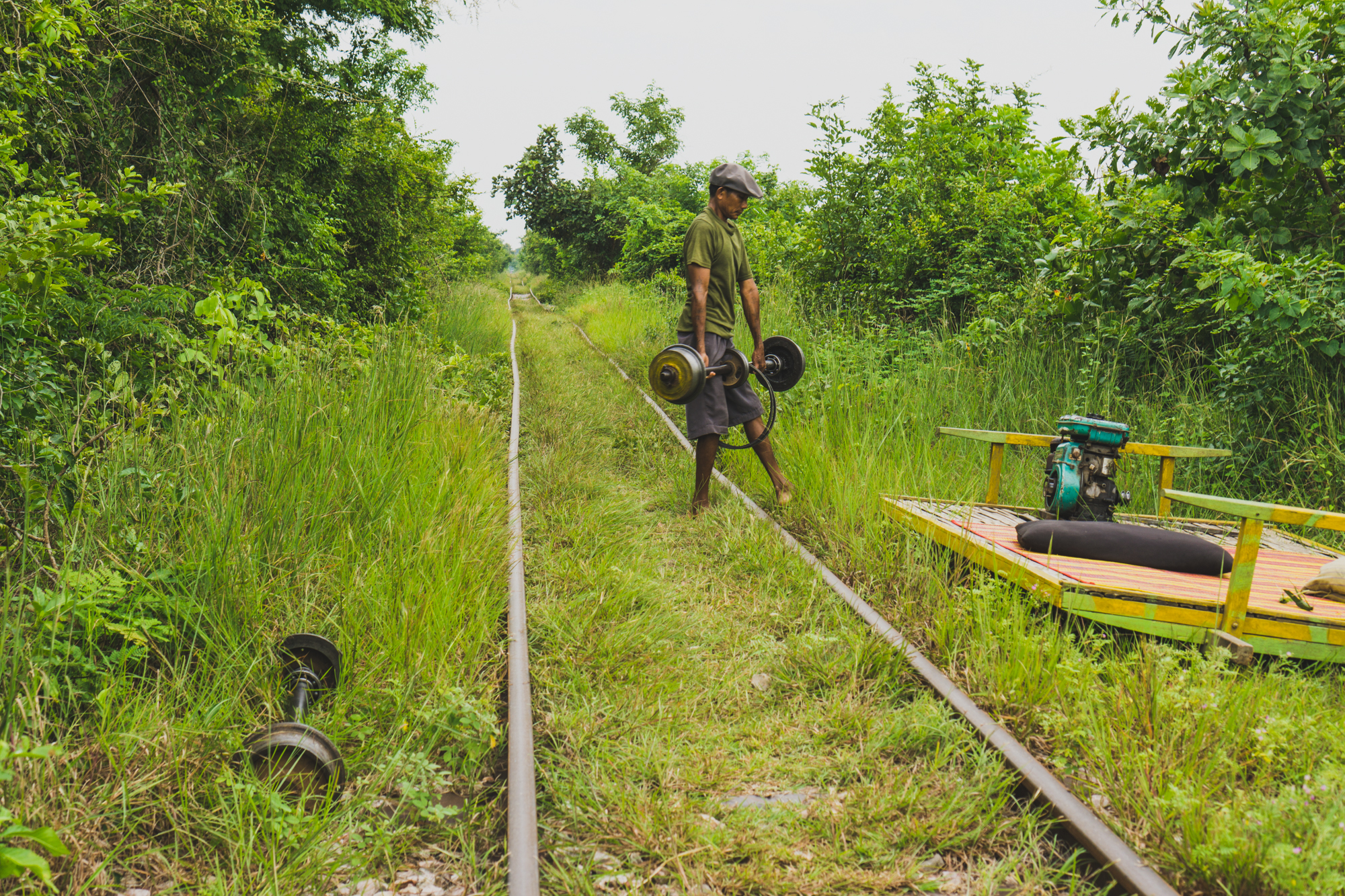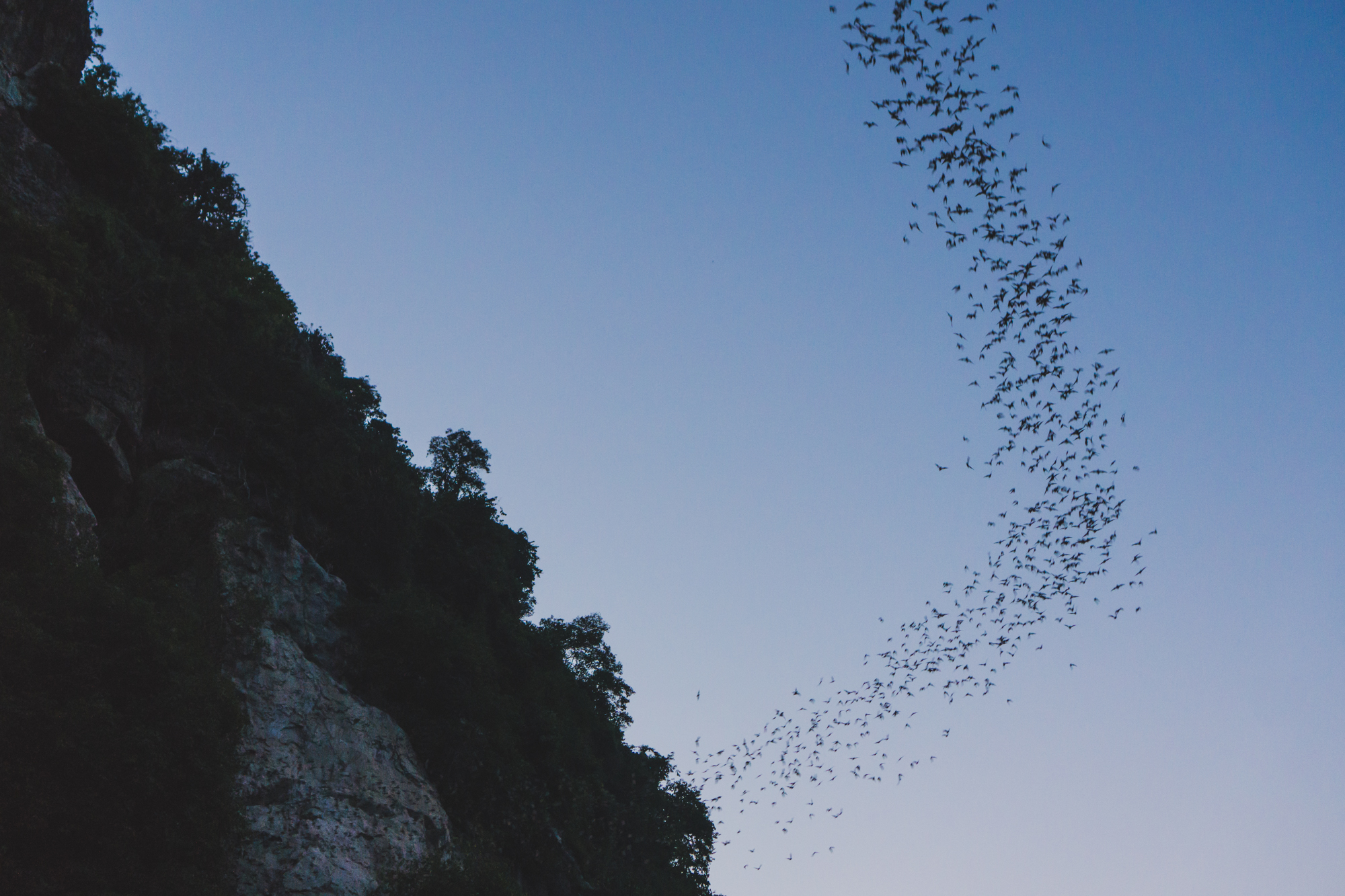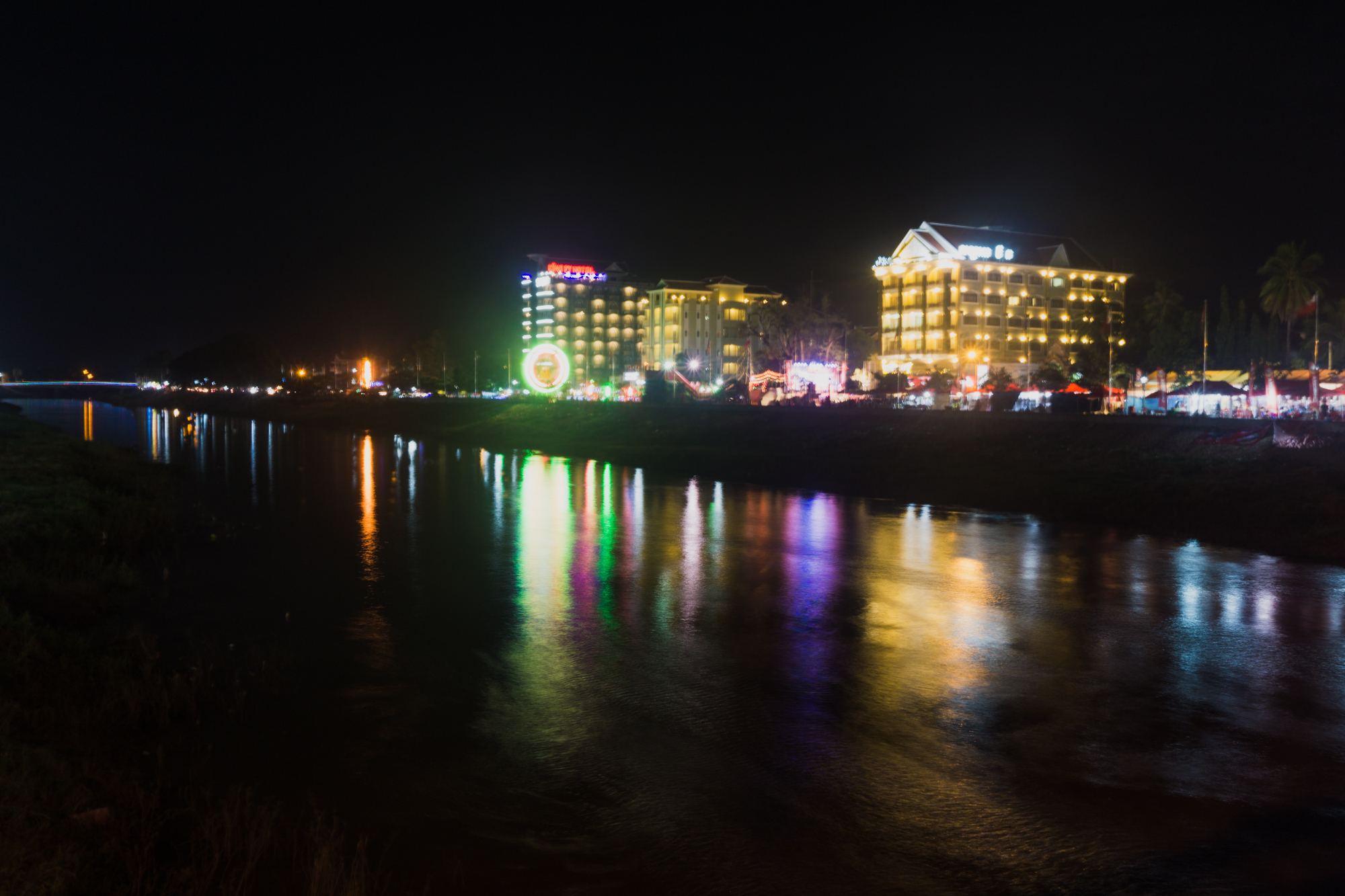 Day 3
We got up at 6am to be picked up by the bus to Phnom Penh. The bus was cramped, but the best of a bad lot, and was possibly only cramped because we were in the very back row. Anyway, we arrived and haggled a tuktuk ride from where the bus dropped us off to our guesthouse for $2. It was a cheap but cheerful guesthouse in the city proper, with friendly staff and basic accommodation. Perfect! First things first we had some lunch, then we were off to see the Killing Fields. This was as horrifying as you can imagine. The $6 entrance fee includes an audio guide, so we weren't talking on the way round, as we each had headphones on, but I think it would've been difficult to talk even if we hadn't. The audio guide took us around the site, pointing out where the trucks would've arrived carrying new victims, where mass graves were, where headless corpses were found, where bones and teeth still surface today in the rainy season, even where the Killing Tree was, where babies were killed by being swung by their legs against the tree to crack their skulls. There were still clothes and bones and so many skulls on display. That was a very difficult place to go, but I'm glad we did. We had also wanted to visit S-21, but it had closed by the time we got there so we headed on back to the guesthouse instead. That evening we wondered out to the night market, but it was a bit pants so we didn't stay long. Phnom Penh is a very different city from Siem Reap. It's dirtier, less organised and not all wrapped up with a bow. It's much more true to what we saw of the rest of Cambodia, and I like it a lot more than Siem Reap.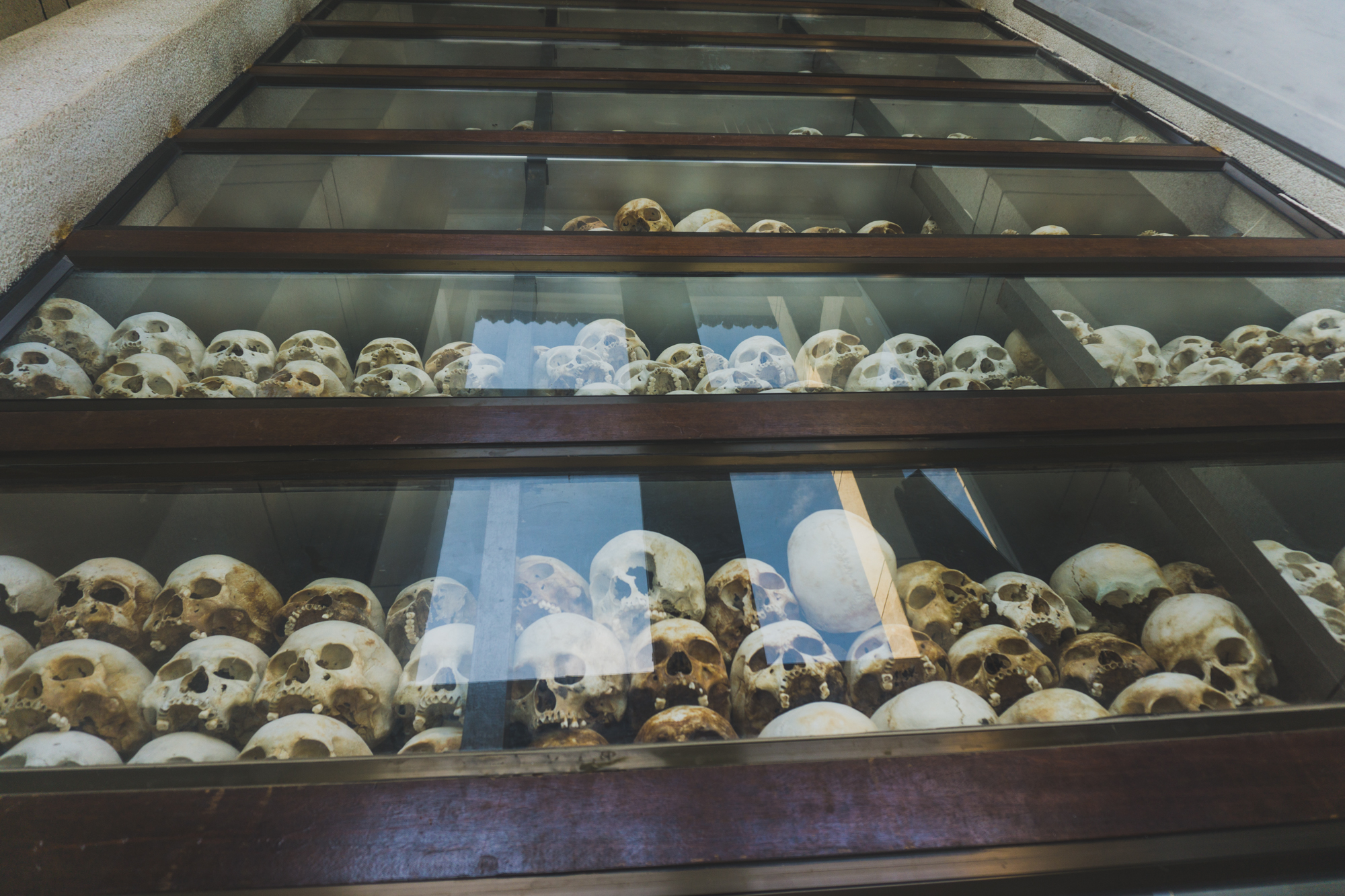 Day 4
This morning we went back to S-21 (No photos allowed) before the bus picked us up. S-21 was a school before the Khmer Rouge turned it into a prison. We asked for a tour guide, as I'd read this was definitely worth it, and we ended up being taken around by a lady who had been 10 years old when the Khmer Rouge took power. She guided us around the classrooms turned into cells and told us a mixture of facts and personal experiences. At one point this lady welled up when speaking about somebody that she misses, who showed her kindness after the KR were overthrown. It must be so hard, reliving the heartbreak and pain every single day as a guide. The classrooms had been built in, with brick cells about 1x1.5 metres along each edge. The original walls were still there and looked so crudely built. Original torture tools were on display, with vivid paintings and descriptions of how they were used. Blood still stains the floors. There are photos of hundreds of victims inside, most taken while the people were alive, but some dead. Like the Killing Fields, it was very affecting. After the tour we went back to the guesthouse, ate some lunch and caught the bus to Sen Monorom (Mondulkiri). It's a long journey, and were arrived after dark during a tropical storm. We found a restaurant for dinner and waited for the storm to pass before starting the walk to the next guesthouse. The storm didn't pass and we eventually decided to go anyway, and it was not long into this walk that my left flipflop passed on. Pair of shoes number 3 in the bin. The rest of the walk was pitch black (except when lightening lit the way) through Cambodian country lanes about a foot deep in mud, with no torch and only one shoe. What a day.
Day 5
Today we met the elephants!!! There were four of them; Princess, Sophie, Lucky and Moon. Lucky and Moon were not really the biggest fans of people, but were happy to take bananas from us. After that they lost interest and preferred to be alone. Sophie and Princess though, were really sociable, and stuck with us for ages. Princess in particular would seek people out to get a scratch, and rested her weight on one of her back legs with the other knee bent and on its toes, like people do. It was so unbelievably sweet! This part of the day was labelled as "trekking with elephants", but a more accurate description would be "following elephants through the jungle". All four elephants had a mahout, but these mahouts didn't have so much as a whistle to blow at them. Lucky even pushed a girl over when she had been taking photos too close for too long, despite several warnings from our guide, and there were no repercussions for the elephant. As far as the guide and mahout were concerned, the girl had been warned, and Lucky was just being Lucky. The girl was ok, but she heeded the warnings after that! We followed Princess the most, and eventually went back to a hut for some lunch, cooked by a local tribeswoman. The tour company we used hire local tribespeople as mahouts, cooks etc as they have no qualifications and so are unqualified for other jobs, but this gives them opportunity to earn money so they don't need to sell off their land for income. Lunch was perfect, as was the nap we had in hammocks straight after. We trekked down to a river after this, and after crossing a slightly knackered old "bridge", came to a larger river. Princess was there, and got straight into the water with no hesitation. The rest of us followed a little more slowly! The water was cold and the river bed nearly broke all our feet, but when there's an elephant splashing around in the water, very obviously waiting for someone to come and play, it's very easy to forget about all the leeches, mosquitoes, rocks and cold water. It was amazing, and definitely the highlight of Cambodia! Princess stayed until we had all got out, then wondered off down river somewhere. I guess she likes being in water! We found our way to another part of the river, to watch Moon and Lucky take their baths, and it turns out they like water too, a lot more than they like people! One of them (I'm not sure which) was rolling around for a long time. We stayed a safe distance for this, for obvious reasons. After getting back across the " bridge", it was time to say goodbye to the guys on the tour who were doing a second day, and would be spending tonight in hammocks on the jungle. We sweated our way back to the pickup, which had been fixed after breaking down on top of a hill, and climbed in the back to be dried out by the wind.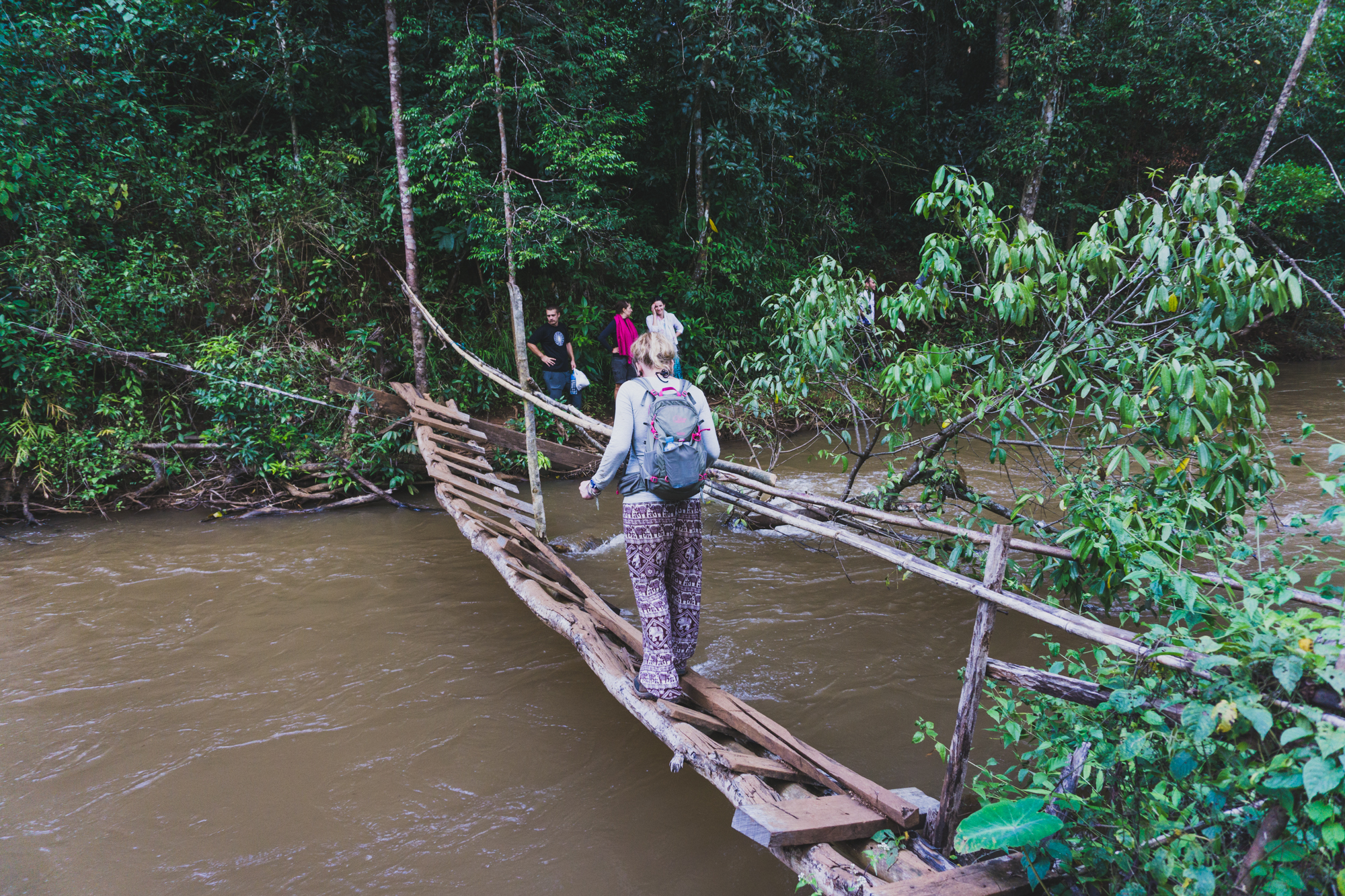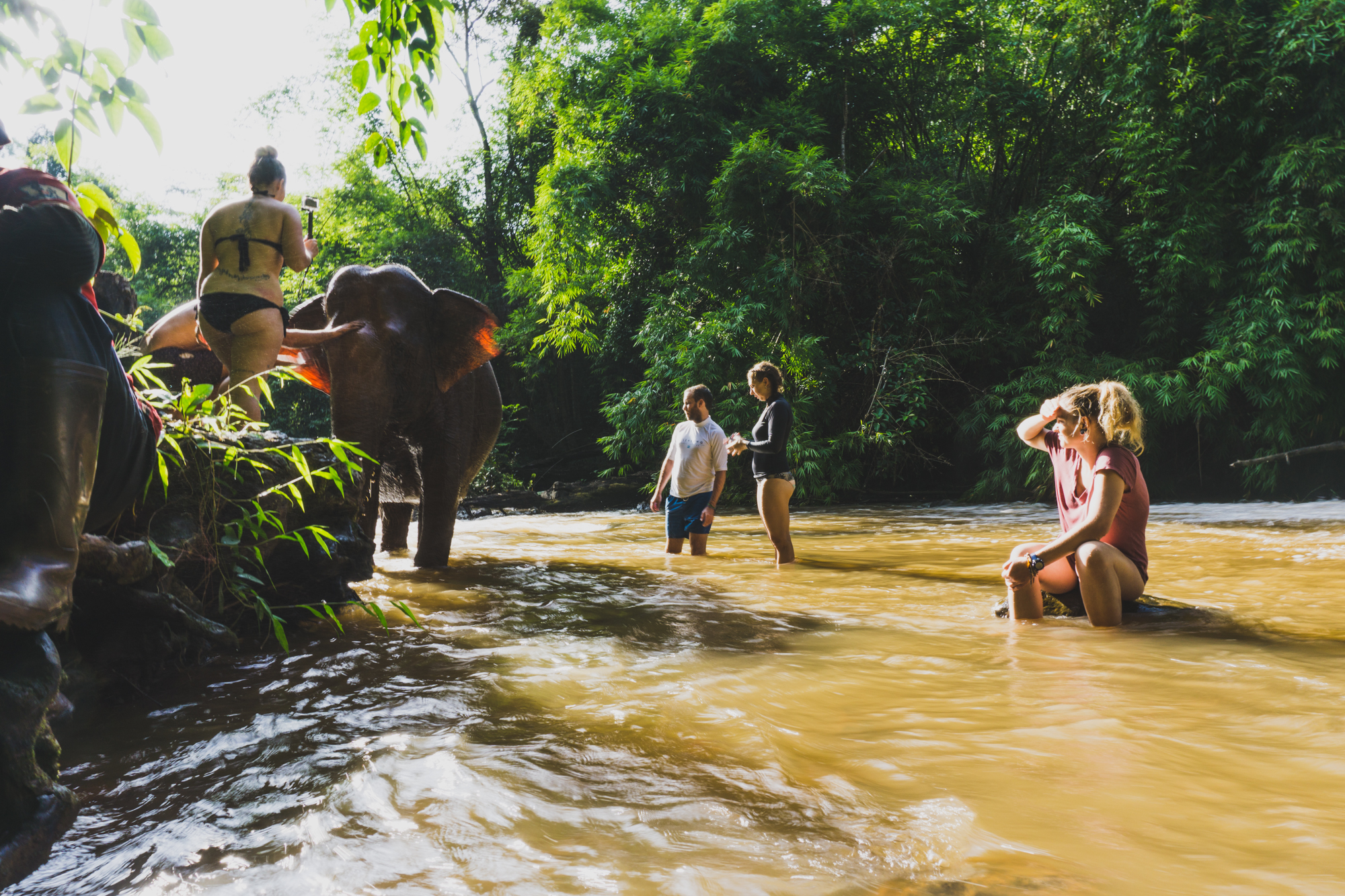 Day 6
We had taken a taxi back to Phnom Penh straight after the elephants last night, and so woke up and got on a bus south to Sihanoukville. Our bus broke down metres from our hotel, which couldn't have been better as the bus driver had just refused to let us get off before we reached the bus station. Smug grins on our faces, we checked into our hotel. We ate some lunch at the hotel and got in a tuktuk to Independence Beach. It'd been lovely and sunny when we got in the tuktuk, but when we got to the beach we got the 10 minute warning from the sky that it was about to chuck it down, and ran to the water so that we could tick it off the list. The water turned out to have jellyfish in it, and possibly jellyfish eggs (?) so we were happy to get out after a few minutes. We did, and then the heavens opened! So we got back in a tuktuk to the hotel and had a rest until dinner, when we went back to a different beach and ate/shopped.
Day 7
This was an early start, as we had a bus to catch back to Phnom Penh, then across the border to Saigon, Vietnam. I'd been certain I'd go back to sleep when the first bus got going, but we'd been seated next to some very lively Australian ladies, so actually spent a lot of the journey swapping stories instead. One puncture and most of the day later, we arrived in Saigon. It was a long day on buses, so when we arrived it was straight to bed.
Day 8
We walked to the War Remnants Museum this morning, and had a look around. This is a museum detailing all the atrocities committed by America during the Vietnam War (known as the American War, or the Indo-China War over here). The language used to display the facts here is so biased it beggars belief, but it doesn't change the fact that these war crimes were committed. The worst parts were reading about Agent Orange, and the US Army's use of tiger cages and other torture methods. I am surprised that this isn't better known about in the western world. But I'm also certain that's no accident. All day random Vietnamese people were saying hello to us, and it was hard to believe these people are so friendly after all they've come through. After the museum we found the market, where Dee and I did some shopping, and Rich followed (Dee; my flip flops lasted 2 days then fell apart!). Then we wondered up the Bitexco Financial Tower, for an impressive view of the fast-growing city from about the sixtieth floor (can't remember exactly!). Then it was time to head back to the hotel, grab Dee's bag and take her to the airport. Sad face.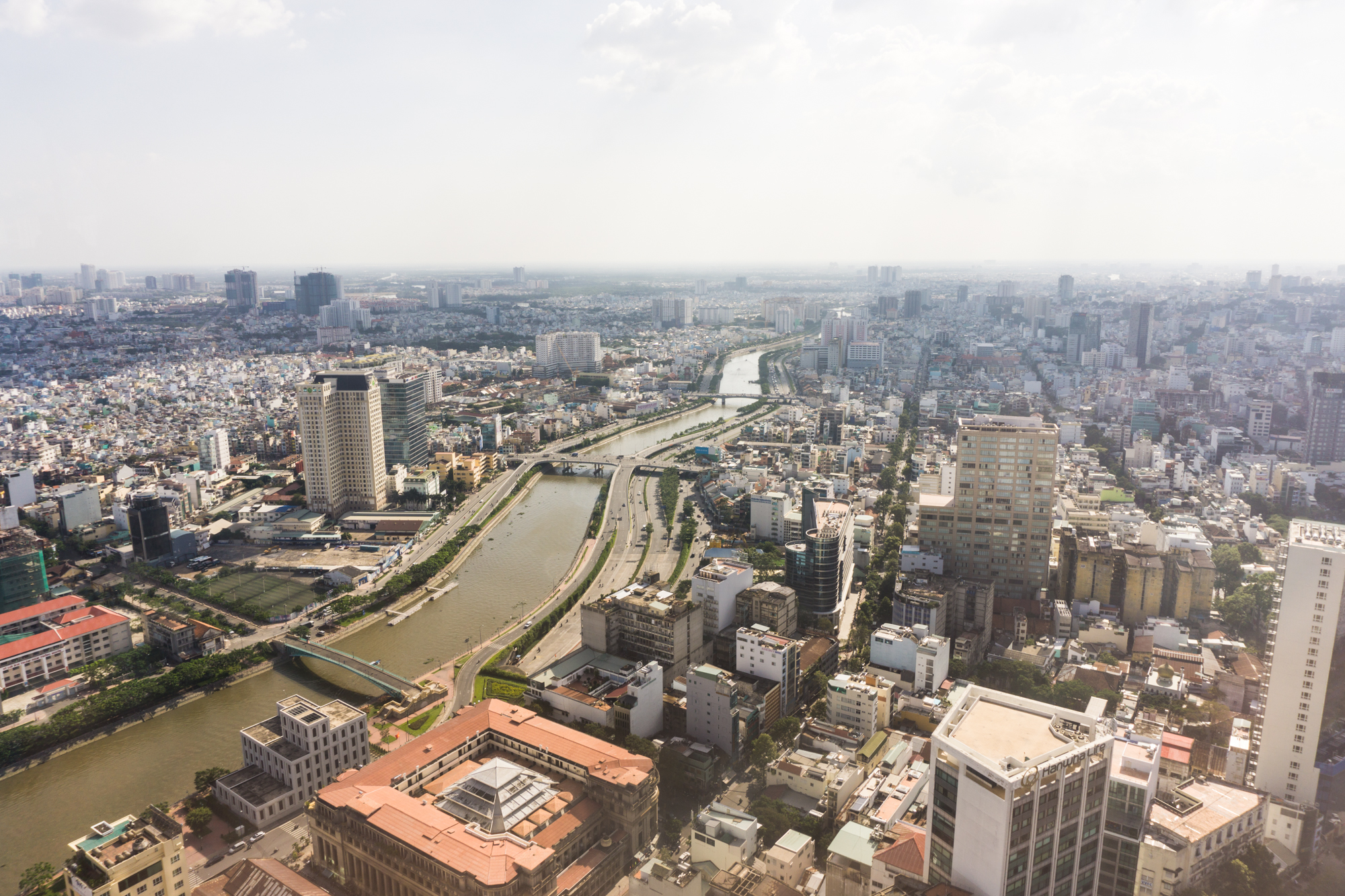 It's been such a busy week, but it's been amazing! It was so good to see Dee, and seeing her was a warm reminder that home is actually only ever a flight away. Cambodia is a beautiful country, and while it'd probably have been good to see more of it, or spend more time there, I could very easily say that about all of the places we've been to so far. Half a lifetime might just do for each country, but there are too many other places to see as well. We had a bit of a rough start, being scammed four separate times on the way in, but the rest of the country very quickly redeemed itself. So long Cambodia, maybe we'll see you again some day!