Getting back to Thailand really felt like arriving back home. From the abundance of 7-Eleven convenience shops (where everything is clearly priced!), to the cars driving on the right side of the road, to the usable pavements, to the English-language signs and friendliness of everyone we meet. Everything just works, it's so good! It's hard to explain, but there is a definite Western feel to most of Thailand, but with the added bonus of Eastern warmth and exciting colours and flavours everywhere you turn.
Our exit from Laos was a lot less dramatic than our entrance. Rich has blogged about the things we got up to while we were there, but the whole country felt like stepping out of this universe, so I took a back seat on the blogging front. Laos feels so completely unrushed, that it's forgotten the rest of the world exists. I mean, the cities have good roads and WiFi and ATM's etc, but it really does feel other worldly. If you walk into a shop or restaurant in Laos, and wait around for 5-10 minutes waiting to be served, then give up and walk out, that's your problem not the person who lost your business. That happened a few times a day for our entire trip through Laos, not just once or twice. A lot of people describe it as a "laid back" place, but to be perfectly honest at the time I just found it infuriatingly lazy. No one seems in any hurry to do anything. One memory that will stay with me for a long time is sitting outside a restaunt in Vang Vieng with Rich, feeling sick and trying to force some food down, when a tiny old man wearing rags walked past carrying a sack of empty drink cans (presumably for recycling for cash) that was bigger than him. He walked past, stopped and said hello, gave us a grin then carried on into the dark. I was fully expecting to be asked for money, but all he wanted was to say hello. I wasn't able to finish my meal, worried I might throw up if I crammed too much into a "travellers tummy", and this man collected rubbish for money, was seriously under nourished, had presumably seen countless family and friends die from bombs due to his age, wore rags with no shoes, and had only said hello. If he'd have asked for money, I might've given him everything I had, but he didn't. And I'd wasted the plate of food I'd bought. Not that the restaurant would've binned it. Nothing goes to waste here. Laos is beautiful, but it's not an easy place to be. And it feels like the cities aren't even the real Laos, they're a tourist-friendly version. We stayed out of the countryside, for safety reasons (to avoid bombs and malaria, not people), but I'm sure it's not any faster paced.
Laos has a heart-breakingly brutal history. Our visit to the C.O.P.E. Visitors Centre in Vientiane showed us in great detail the losses that this country have endured. They made no apology for showing the mangled bodies of children that still get torn apart by bombies, even today. The whole country is covered with bombs dropped by the US, and because of that they're stuck in time, unable to move forward with town development or road planning, without factoring in huge loss of life. The intercity roads are mostly ok where we went, but it's not a good feeling knowing people almost certainly died building the roads that you're travelling on. Just plain old tarmac roads. But I wonder how much that has to do with why business is slow. It's not that they're not desperate to make money, as you can find jewellery and all sorts made from old bomb shells. Other materials are in short supply, and bomb shells are free. Dangerous to get hold of, but free. Is it because we're westerners, and look American? Is it because the business owners would rather be spending precious time with their families? Is it because they've simply done enough business to buy that evening's meal, and they'd prefer to worry about the next meal next time? I have no idea. But it's frustrating as an outsider, and as such I have very mixed feelings about Laos.
Taking the 2-day slow boat back to Thailand was as good as Rich explained. It's THE way to travel! After arriving back in Thailand and accidentally booking ourselves into a luxury apartment for £9 a night, we extended our stay in Chiang Rai to 5 nights, and hired a motorbike to explore. We visited the White Temple, and the Black House, which were both basically art exhibitions, although they're very different from each other. We also went to the Golden Triangle, which is where the borders of Thailand, Laos and Myanmar (Burma) meet. I really liked Chiang Rai, and would happily go back for another week, although mostly just to lounge about in the posh apartment we were in. It was really really special, and felt really homely, which is a feeling I hadn't realised I was missing.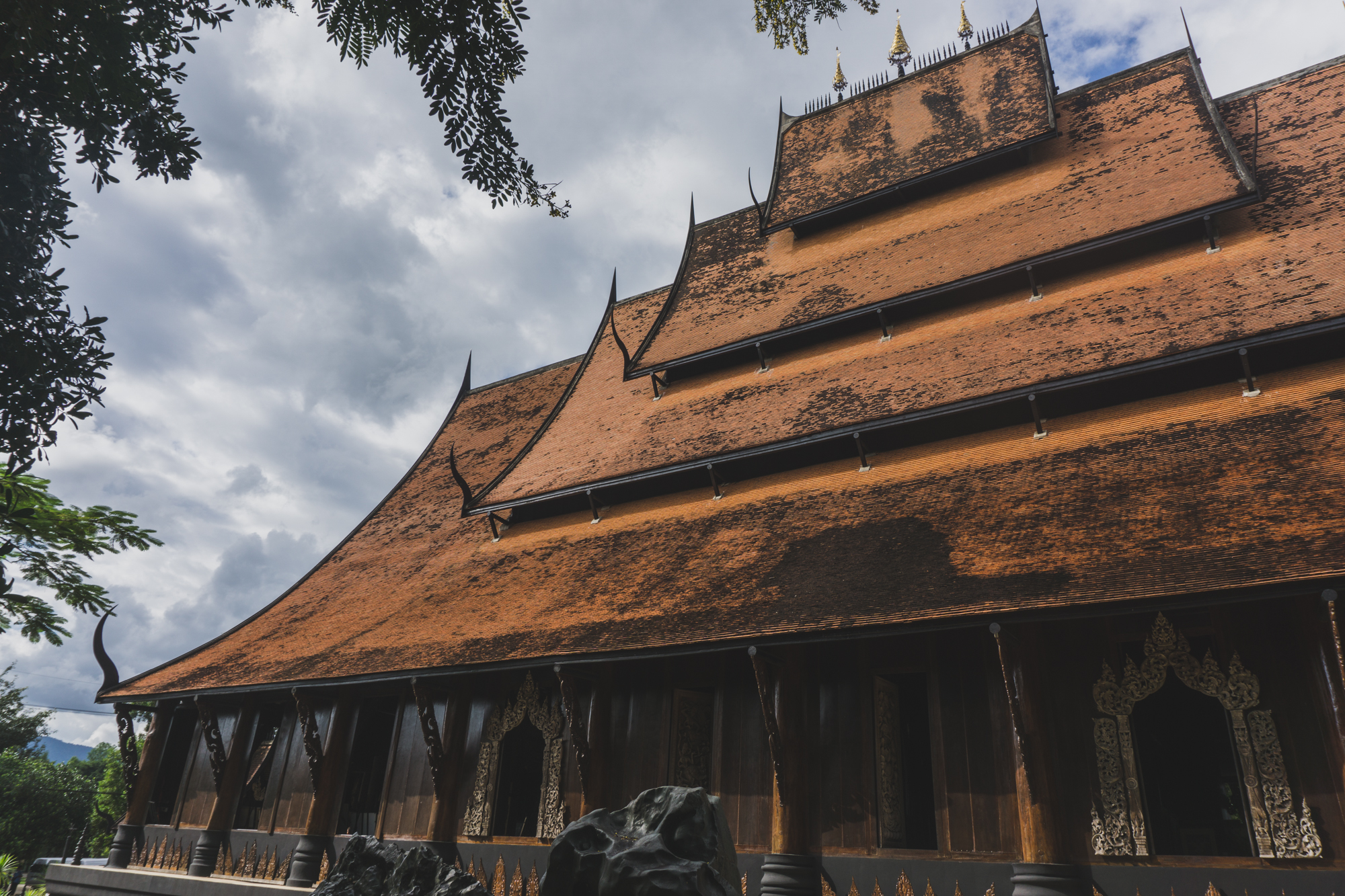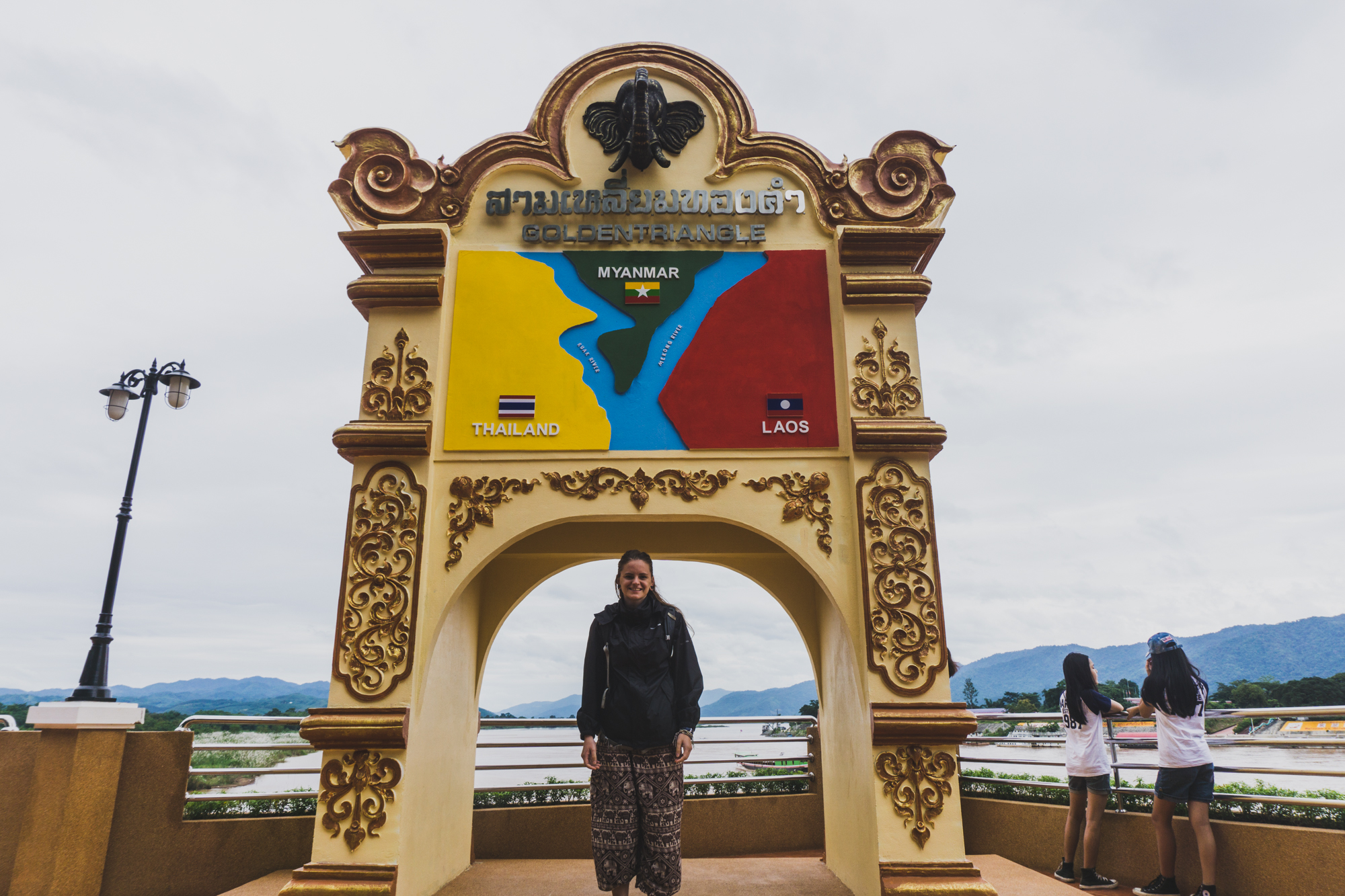 On to Chiang Mai, a bigger city further south of Chiang Rai, and we stayed in yet another luxury hotel kindly paid for by Dad for four nights. I explored the HUGE night market (for some reason Rich is a bit bored of markets... Boys!!) and we both had a look around the old town. Chiang Mai has very clearly labelled all of its tourist attractions, and each attraction has about 5 leaflets in every hotel lobby. That's great for a family holiday, but I prefer to dig a little to find rewarding trips and attractions, the way you have to in Chiang Rai. It means the prices won't be inflated, they won't be overcrowded and there's still some realism to them too. It's hard to feel like you're in a natural setting when everything is roped off and there are buses queuing to park up and release the Chinese tourists. Haha.
Anyway, we're back in Bangkok, now my favorite city in the world. But that might be because I'm here right now, curled up in Tom n Toms cafe, with a lovely caramel latte taste in my mouth and listening to smiling Thai voices and a playlist of English-language pop song covers. It's funny really, my favorite season always seems to be whatever the current season is, too. Talking of seasons, the rain definitely seems to be slowing down now. The skies are grey quite often, but it feels hotter and the sun is creeping through whenever it can now. The end of the wet season is nearly here, and pretty soon the pace will start to pick up, as people wanting some winter sun start to arrive from home. It's been quiet, travelling in the low-season, but really nice. I am looking forward to seeing a bit more life soon though.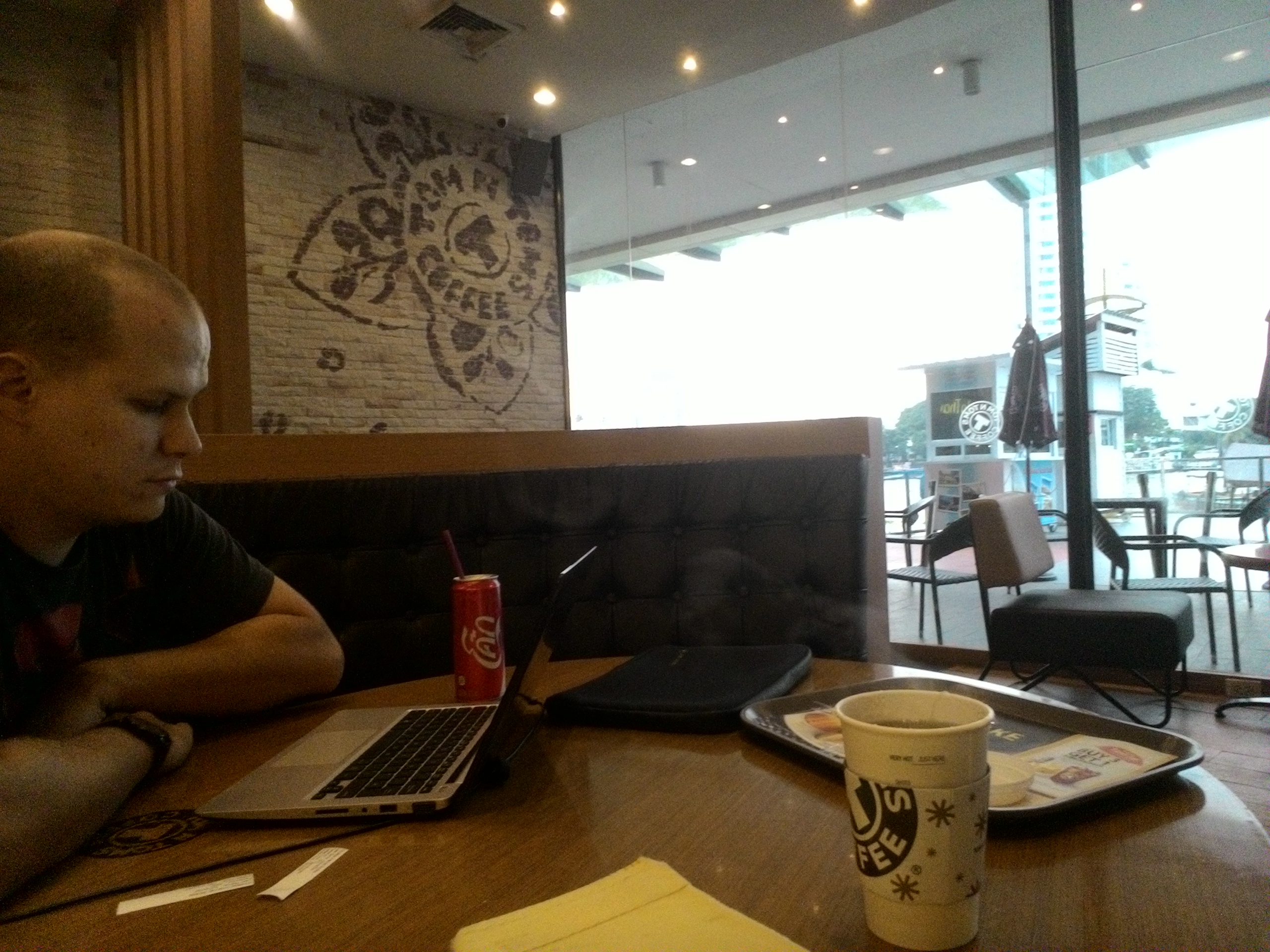 We took an overnight train from Chiang Mai to Bangkok, and I was so nervous about this leg, but really shouldn't have been. We tried to get the 6pm train, but this was full so ended up on the 5pm train instead. I had read that travel agencies caused a problem by scalping the most popular tickets, and as we could only get top bunks on the 5pm I guessed it hadn't changed when we got on the train to find the two beds underneath ours completely empty. The way the beds are arranged is like a 4-berth cabin but minus the doors, so you still get a good amount of privacy before the seats are made into beds. Added to that is the fact there are curtains around every single bed, so you can dribble and gurn as much as you want in bed. Bonus. The staff were friendly and helpful, they sold food on the train, there were even plug sockets (!!!) and twice the number of toilets as the Russian trains we took, which also never got locked. It was such a brilliant experience. After we boarded, we plugged in the laptop, ordered a hot chocolate to fight the aircon freeze, and watched a film sitting on the empty seats under our beds. The seats were turned into beds (with proper duvets!) at around 8pm, so we finished the film sitting on the top bunk, just in case someone had booked the bottom bunks. But the time we finished the film we realised the whole carriage has fallen silent, so we got into bed. Two people did eventually use the bottom bunks, but they boarded around 11pm and left before we got out of bed, so we were able to sit on the bottom beds all we wanted. We watched the sun rise in the morning, and saw a different side to Bangkok on our approach than we'd seen before. It was honestly such a different experience to the Russian sleeper trains, and one that I'd be very happy to have again. Russia could learn a lot from Thai railways.
We're staying in the same hotel in Bangkok that we stayed in last time we were here. We're even in the same room, and it feels so familiar. Doing some of the same things we did last time we were here has made me realise just how much we've changed. Taxis and tuktuks aren't scary. Crossing the road is easy this time, last time it felt like an impossible task. Getting laundry done isn't impossible, last time I just did hand washing, but this time I wondered in the back streets for 1.5 hours to find a pay-machine. I have so much more confidence now than last time, in so many ways, and I hadn't really realised until I repeated these same tasks. It's an empowering feeling.
Tomorrow we're off to Cambodia, to meet Dee in a few days time! The pace will be slightly manic for a week, as we cram a tour of Cambodia into 7 days, so the next blog will probably be just as long as this one if not longer. I'm so excited to see Dee! She's not my mum, but she's Rich's and that's almost as good as the real thing!!!