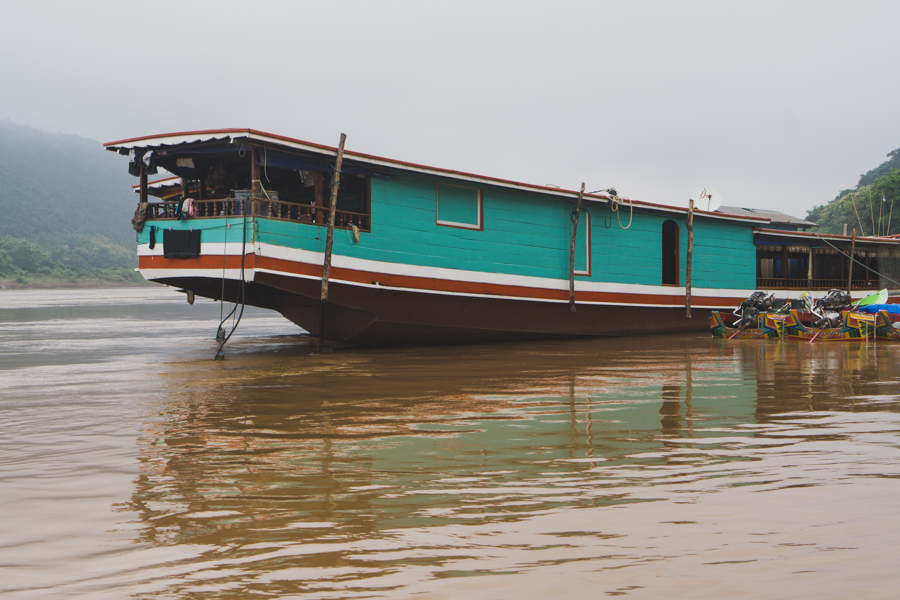 Since Cambodia was next on our list of places to go, we knew we needed to head south, and because we were in Luang Prabang, if we went south through Laos, it'd have to be back through the places we'd just come from. So, we decided instead to head west into Thailand, first to Chiang Rai (where we are now), then Chiang Mai and Bangkok, before getting to Siem Reap.
Once we knew where we wanted to go, it was a case of deciding how to get there. The decision became easy as soon as we knew about the boat though.
Everywhere in Luang Prabang sells boat tickets, at all sorts of prices, however it's cheapest if you just turn up on the day, so that's what we did. The journey actually consists of several parts, and takes 3 days to get all the way to Chiang Rai. I think you might be able to do it in 2 days but that depends on a lot of elements happening at the right time, and that rarely happens in this part of the world. So this is what we did:
Tuk tuk to the boat port 10km outside Luang Prabang
Boat to Pakbeng (advertised as 7-8 hours, actually 9 hours)
Guesthouse in Pakbeng for the night (no booking, just turned up and found one)
Boat to Houay Xai (again, much longer than expected)
Guesthouse in Houay Xai (again, just turned up)
Tuk tuk to Houay Xai bus station
Bus across the border (jumping off for passport checks / stamps etc) and all the way to Chiang Rai
Tuk tuk to our hotel in Chiang Rai
I list all those points because in every case except the tuk tuks, they were things we'd normally book in advance, but didn't bother this time. It was great because everyone we spoke to along the way actually paid more than we did - we saved loads of money doing it this way!
The boat rides themselves were great. The view was stunning the whole way, and we met some great people. We also saw some elephants walking along the side of the river - that's happened a few times now, but it still feels so odd to see them! The boats were comfier than we expected as pictures online, as well as other people we spoke to, suggested they'd have wooden seats, but instead they had minibus seats in them. There's plenty of room to get up and walk around every now and then if you need to too, and tons of leg room. All in all, it was a brilliant experience and I'm glad we decided to take the 3 day route, instead of a 1 hour flight.