We bumped into a guy called Abu while we were wondering around yesterday, and just randomly got chatting. He then invited us to a Hari Raya (feast) at his house today. We were a bit nervous about it (no idea what to expect, and not really certain whether he really wanted us there or was just being friendly!).
We decided to be brave, and went along. What an amazing decision! We turned up and were greeted by some kids playing out the front of the house, then some women inside welcomed us (with no idea who we were - there were a LOT of people there!) and led us through to the back, an outside decking area, hanging over the river. On the decking Abu said hi, and dished up some Bruneian noodle soup for us both, explaining why he's having the Hari Raya, and what's in the food etc.
We picked a spot at one of the tables, and then the man's niece, Sabrina, and her husband, Yusef, sat down with us and we got chatting for a while. They told us about some things we should check out before we leave Brunei, and we talked about England, as they'd both been there several times - he prefers the weather in England, but she prefers it in Brunei.
When we eventually went to leave (after thanking everyone profusely for being so kind) we bumped in to an old man on the way out, who turned out to be Abu's father - his English wasn't great, but he was thanking us for coming, and kept laughing - one of the younger guys there then started making jokes about his grandad's English being bad, and told us he was trying to tell us that we were welcome back any time.
Finally, Abu's wife, Ana also thanked us for coming. We thanked her for the delicious meal (which she had cooked). While we were talking to her, a load of the kids came over and started crowding round to say goodbye to us (and one of them offered me some of his pizza).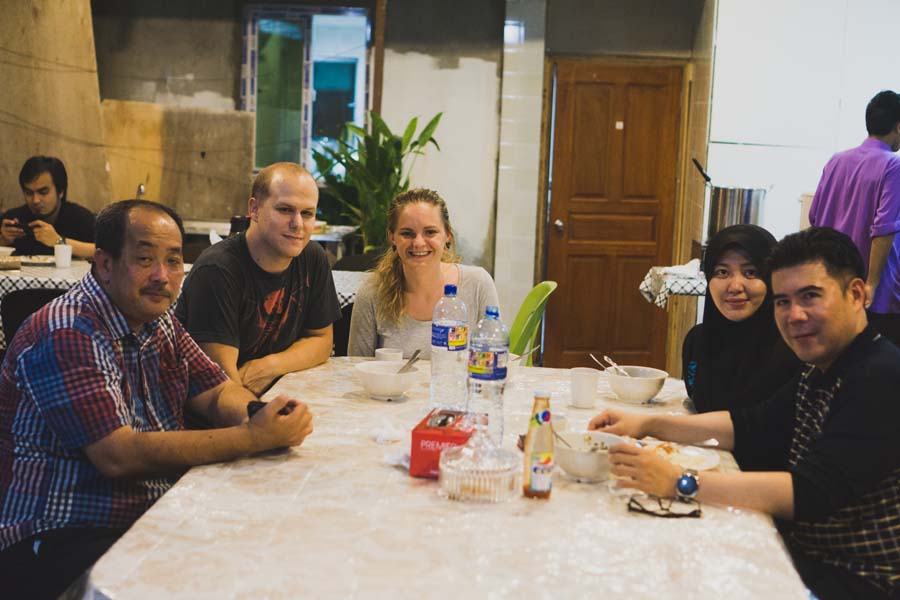 In the photo, from left to right: Abu, Me, Abby, Sabrina, Yusef.
What an amazing evening!