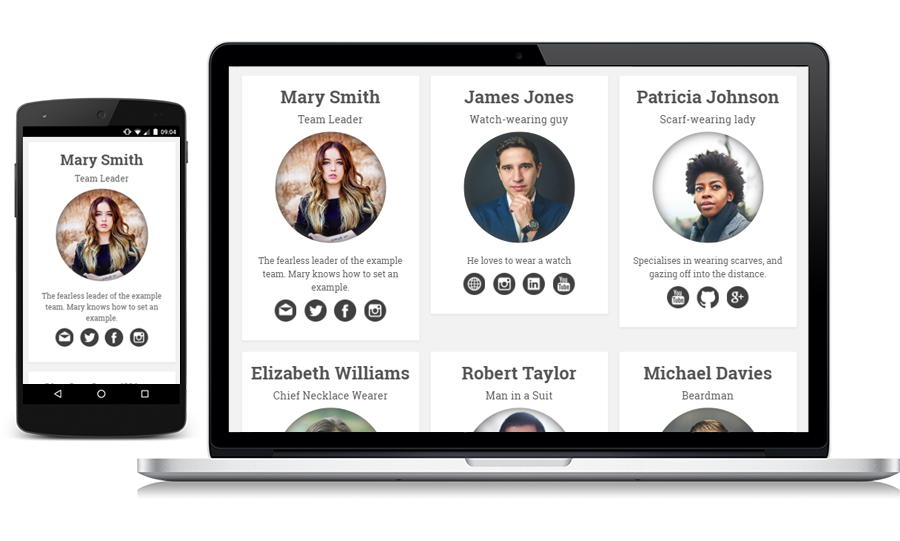 Features
Easy to Use
Add as many teams and team members as you need, through a simple and intuitive interface.
Responsive
RC Teams looks great on all screen sizes, from phones and tablets up to desktop monitors. It also dynamically resizes as the browser window changes size.
Gorgeous
RC Teams takes on the style of your template, but also uses some of the latest CSS3 styling options to really make your site pop.
Customisable
Choose the number of columns you want to use, so you can make sure RC Team always looks great with any template. You can also choose between a light and dark theme.
Contact Icons
RC Teams supports a big range of contact icons, including Facebook, Twitter, LinkedIn and loads more. If there's one you want that isn't in there - let me know!
Detailed documentation
While RC Team is very easy to use, its functions will be documented in detail in an extensive user guide, coming in the next few days.
Support
This extension is free, and so is distributed without warranty, but I'll help out where I can, and do my best to fix bugs if you tell me about them. If you do have any issues or questions, please get in touch.